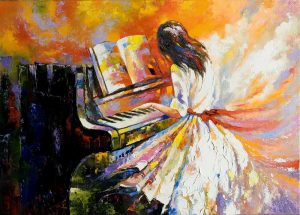 This program is focused on the high level of knowledge. Lessons are provided by the professional teachers and they work under a special program. Our students are winners of musicals competitions. They gain high scores on international exams. You can hear them on the city concerts and show. When you fill out the registration form, we will offer you the options to schedule, teachers, and courses.
---
Group/Private/Semi-private Music programs
School Age
#01 Chorus
#02 Band
#03 Composition
#04 Music Theory
#05 History of Arts
#07 Piano
#08 Theory
#09 Violin
#10 Trumpet
#11 French Horn
#12 Guitar
#13 Saxophone
#14 Vocal
Young Children
#06 Mini Music
Academic music
#30 (in additional comments of registration form, please, specify the  instrument and  the group courses, that you want to take this term)
Our academic music program includes  2 private (instrument)  and 2 group lessons. Group course theory / history of music is required and one group course of your choice.  You will  receive a Certificate of Completion at the end of each course if you pass exams .