Help Ukrainian Children, Charity Event
May 28, 2:00PM, 7837 Canada Way, Burnaby
Ukrainian Dream is a fundraising concert to help Ukrainian children. The money will be used in two ways: some will be sent to Ukraine and the rest of the funds will be used here in Vancouver to support refugees with children, so they can buy food and other items for their children.
The concert will include art and dance, musical, and magic performances by professional artists. You and your children are welcome to join us to experience artistic sights, sounds, and stories from around Ukraine.
Tickets are by donation. Recommended amount is $20-30.
e-transfer to [email protected] with the comment "Ukrainian dream" and the number of tickets
March 20, 2020
Calgary, Canada
Recital
Get tickets
March 21, 2020
Montreal, Canada
Le Conservatoire de Musique de Montréal
Recital
Get tickets
March 22, 2020
Toronto, Canada
The Royal Conservatory
Mazzoleni Concert Hall
Recital
Get tickets
March 23, 2020
Ottawa, Canada
Recital
Get tickets
March 24, 2020
Victoria, Canada
First Metropolitan United Church
Recital
Get tickets
March 25, 2020
Vancouver, Canada
Recital
Get tickets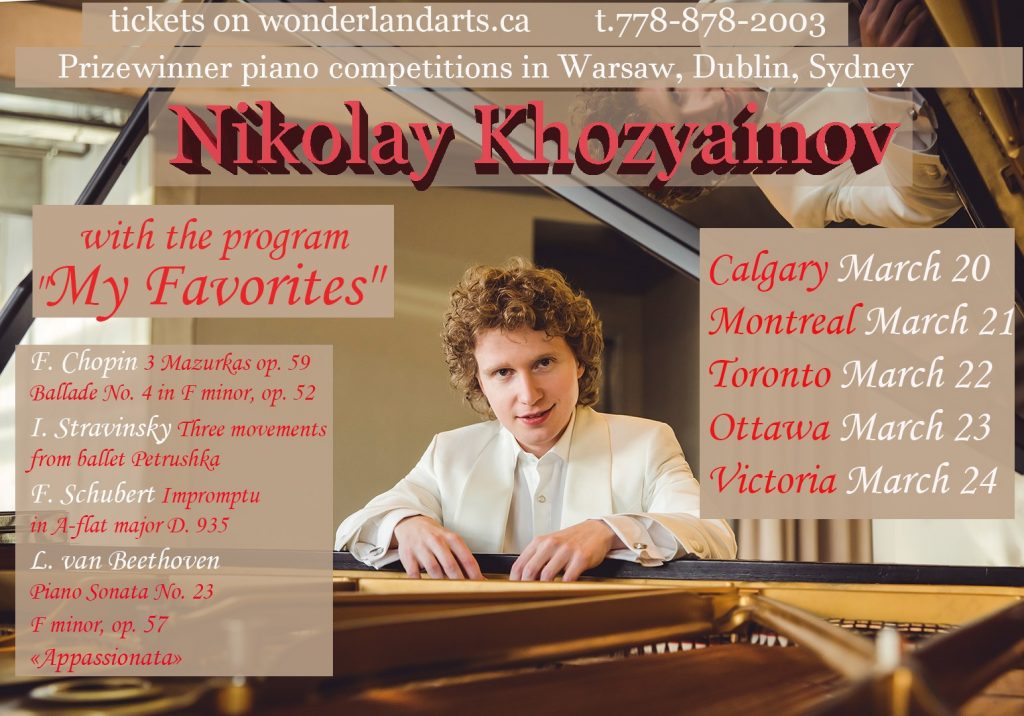 Nikolay Khozyainov (Николай Юрьевич Хозяинов) is a Russian classical pianist who is viewed as a great representative of the Russian piano school, and is noted for his poetic piano sound and brilliant virtuosity. He started his career, like Mozart, at 5 years old. When he was 6 y.o. he shocked the audience performing with an orchestra at The Big Hall of the Moscow Conservatory. Now Nikolay Khozyainov is 27 years old and he is a prizewinner of many prestigious piano competitions, like Chopin contest in Warsaw, Dublin international contest and so on this young artist already has four albums in his discography. Nikolay speaks 8 languages, studies music history and arts. All that helps him to create a special atmosphere during the concerts. Khozyainov has been thrilling audiences around the world, including the Emperor of Japan, and his recital and concerto engagements have included sold out appearances at Carnegie Hall, Wigmore Hall, Lincoln Center, the Kennedy Center, Moscow's Tchaikovsky Hall, Suntory Hall, as well as Salle Gaveau. His performances have been garnering glowing reviews wherever he has performed. At the 2012 Dublin International Piano Competition, distinguished pianist and teacher John O' Conor said of Khozyainov, that in spite of his very young age, he "played like a young God of the piano."
Nikolay Khozyainov piano concert "Petals of Peace"
SATURDAY, MAY 27, 2023 AT 7 PM
Pyatt Hall
843 Seymour Street, Vancouver, BC, Canada, British Columbia
Program:
F. Chopin
Nocturne in C minor, Op. 48 No. 1
Prelude in C sharp minor, Op. 45
Ballade No. 4 in F minor, Op. 52
M. Ravel – N. Khozyainov
Three movements from "Daphnis and Chloé"
S. Rachmaninov
Piano Sonata No. 1 in D minor, Op. 28
N. Khozyainov Petals of Peace